"I love color"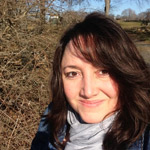 It wasn't until I was a senior in high school that I discovered painting. I tried different techniques in acrylic for about 2 years and gave it up when I moved to Dallas, Texas. I did not pick up a brush again until 8 years later when I was inspired by a t-shirt design that caught my attention in Galveston, TX. Once I picked that brush back up, I couldn't stop. I love color. In 2001 I discovered who I am on the canvas, vibrant in color and whimsical in style. I try to re-create the visions of my minds eye with my own mix of colors.
In the fall of 2002 I entered my first art show. 1026 Tranquilla was sponsored by Dallas Arts Revue (DARts), an organization founded in Dallas by JR Compton. It was my first experience showing my paintings in public. It was an invaluable experience and I sold several paintings due to the exposure from the show.
Fast forward to 2004. I took a huge leap and moved to Laguna Beach, California. Laguna Beach is so amazing! It was my home for several years. In 2008 I met the love of my life and moved North to Hawaiian Gardens, CA. We got married in 2011 and just when we started to settle in and get comfortable his employer offered him a job working at corporate headquarters in Danbury, CT. We packed up our things and moved East. We had quite a few adventures, including lots of snow and wildlife. I also took the challenge of creating some type of art each day for 365 days starting September 1, 2013. It allowed me to learn new styles and work with many new mediums. One of those mediums was alcohol ink and I LOVE IT! The East Coast was fabulous, but we moved back to Orange County in the Fall of 2015. It is nice to be home amidst the sun and sand, but we really miss our new East Coast friends.
I also sell my art on Etsy and at local festivals. So if you like what you see, please visit my shop on Etsy … dannaj.etsy.com or come to an upcoming Event!!!
Selected Exhibitions
Piecemakers, January 2016, Costa Mesa, CA
Brookfield Town Hall Solo Show, September  – October  2015
Newtown Arts Festival, September 2015, Newtown, CT
Enchanted Realms, "Colorvision", July – August 2015, New Milford, CT
Gallery 25 and Creative Arts Studio, "Summer Fun", July – August 2015, New Milford, CT
Tarrywile Spring Artisan Fair, March 2015, Danbury, CT
Brookfield Craft Center, "A Tradition of Excellence: Works by the Brookfield Craft Center Faculty", August 2015, Brookfield, CT
Newtown Arts Festival, September 2014, Newtown, CT
Syrup Festival, November 2014, Henderson, TX
Bridgewater County Fair, August 2014
The Old Crow, February – May 2003, Dallas TX
Wahoo's, Solo Show, 2003, Dallas TX
1026 Tranquilla, Fall 2002, Dallas TX
Awards
Laguna Beach Banner Competition winner, 2007. Three Fish, 16′ x 4′, double-sided.